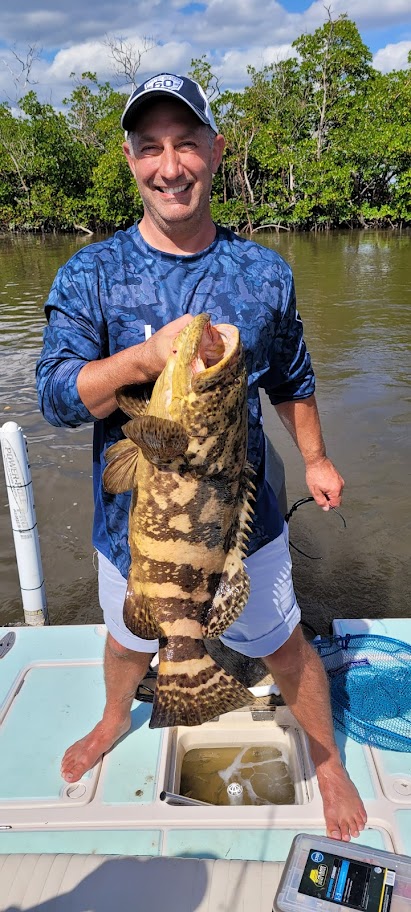 Love it when these guys come down from Cleveland. There are always gonna be laughs, stories, piles of fish, and a the requisite trip to the bar the night before we go. Gino, Dan and Jimmy put a modern day, double digit beatdown on the snook, mangrove snapper, over sized redfish, and big jack crevalle deep in the 10,000 Islands, before things turned into an Old Testament fist fight as we shifted from the low tide oyster bars, into caves and deep root banks full of angry jewfish!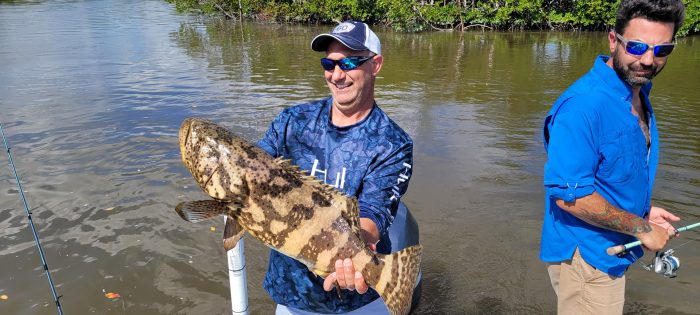 Those big heavy fun sized brutes double down rods, and are a flat out fun fight to wrestle out of their structure laden hideouts. When the dust settled, I had logged in over 10 more samples of fin clippings for the continuing Goliath Grouper study we are participating in.
The Cleveland 3 had some sore arms, and a bank full of ornery jewfish had some sore lips, as we cranked up some Jamey Johnson for the ride home through the sparkling backcountry maze to clean a cooler full of snapper!
Tags:
10000islands
,
10000islandsfishing
,
funfishingtrips
,
goliathgrouper
,
goliathgrouperharvest
,
goliathgrouperresearch
,
hirealocalguide
,
jewfish
,
marcoguide
,
marcoinshorefishing
,
marcoislandfishing
,
naplescaptain
,
naplescharterfishing
,
naplesfishing
,
naplesfishingguide
,
naplesinshorefishing
,
redfish
,
snook
,
southerngentlemenfishing