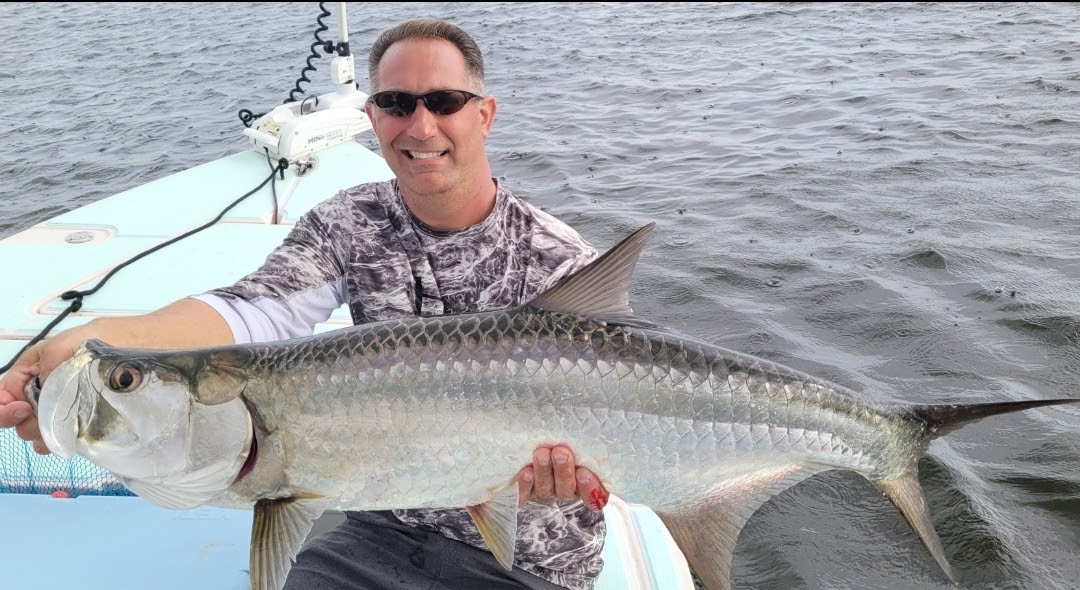 Some days the fish gods just lay down a gift.. yesterday was one of those gifts.
Brought a couple of the Cleveland boys back out, after their morning charter, to join my friend Jen and me for some off the clock fun time, and good Florida living. Well we rolled up to some hard points down south to try and hunt down some big reds and snook, and the fish were everywhere. Only they weren't just reds and snook… it was a rolling feeding tarpon fest going on in the glassy calm waters around the Everglades park! But one cast, and a big redfish said, hold on guys, give me a chance. A nice battle ensued, and the beautiful fish was released quickly.
We eased out into the fray and tossed out a fistful of pilchards and pop! Like little depth charges blowing up, tarpon were hammering the free samples…these were mostly fun sized tarpon, so we went ultra light and tossed out more samples, this time with hooks. Pow! Jen was hooked up almost immediately to a 40 pounder and after an explosion of chaos, and an awesome jump, was off just as quickly. After a jack, snapper on the other rods, boom, Jen had another nice tarpon, and Jen lost another lol…so now it's Cleveland Jim's turn to show off his skills and catch his first ever tarpon…except, when he set the hook, no jump.
What is this fish. 2 minutes of tugowar ensue and right as I was about the anoint it another jack, 40 pounds of silver blew up into a gill shaking jump, and the excitement skyrocketed and of course on the tiniest rod and reel in my boat…a 6'8″ rod and a 1000 spinner with 10# test! Well you can watch the video to see how it ended, and Jim had his first tarpon in the boat! Perfect set up to head down to Everglades City, a couple cold beers and some live music at one of the local spots, before one of those awesome nighttime rides back to Goodland from way on down there!!
#tarpon #marcoislandfishing #evergladesnationalpark #naplesfishingguides #naplesflorida #10000islandsfishing #hirealocalguide #naplesinshorefishing
Tags:
marcoguide
,
marcoinshorefishing
,
marcoislandfishing
,
naplescaptain
,
naplescharterfishing
,
naplesfishing
,
naplesfishingguide
,
naplesinshorefishing
,
redfish
,
snook