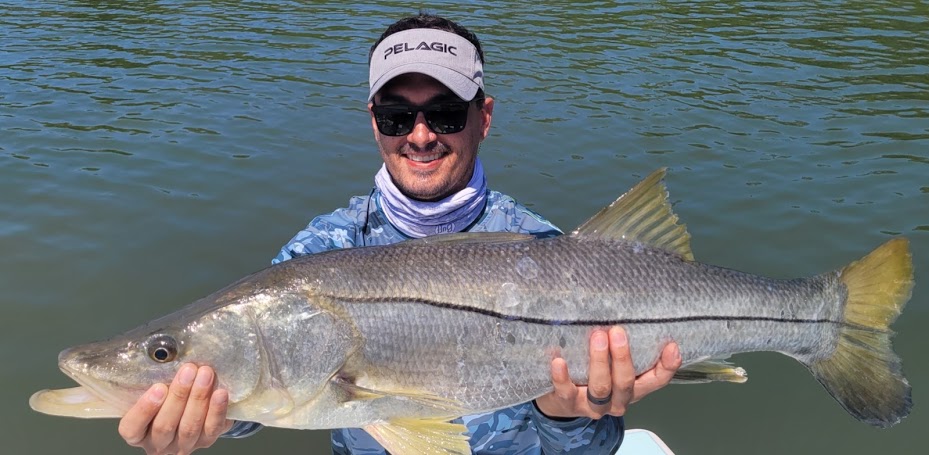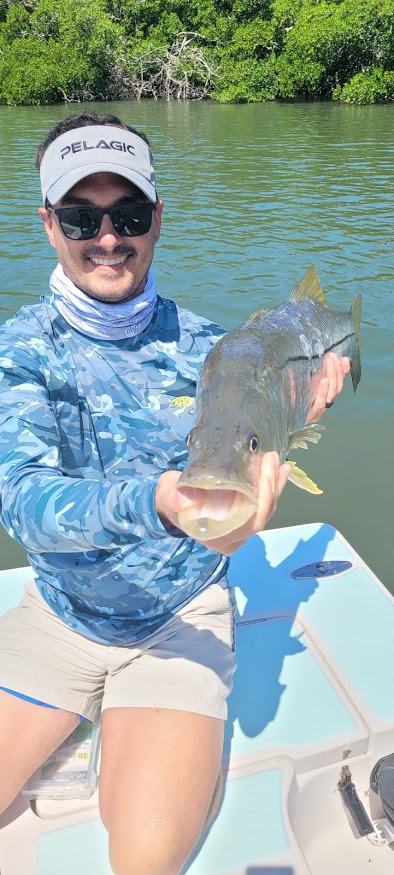 Long ago I quit playing video games. Like when Atari Football was 3 blips versus 3 blips, and there was a joystick, and only one red button…fast forward to today…I hate trying to drive my damn Minn Kota under duress, which is like trying to play modern video games, as anyone that has fished with me will testify.
John from Miami came over on for a Naples vacation, and got to witness and participate in the exhibition. After a nice calm and productive morning, of smooth operating and lots of regular snook, he hooked this moosasaurus deep under the mangroves! It was up to me to calm my buck fever, and his, and steer the boat out into the clear, and drag this beast out. Didn't happen. I fumbled, hit every button but the right one, and It wrapped around a clump of roots and was laying there contemplating it's next move. So I rolled us up on it, still flustered by my forgotten deployed power pole, and two mis directions on the motor…as we rolled up, kapow! It exploded with a crack that could only be our 20 lb Ultracast…but the ensuing screaming drag said otherwise and it was heading for open water, and now, Captain Gameboy has to change directions and follow it out…fail. By the time I started hitting the right buttons, it had swung back towards shore, and John was helpless to even slow it down…big joker was hung again, so back in we go.
I could see it wallowing under the overhang, and was gonna hop in and get it on foot, but it ripped back out, and tested my skills again…I finally said screw it, this one is up to you John! And like any good lawyer, he dug in, stuck his rod down deep, and we dog fought the beast for several more minutes, just 10 feet from the trees, fish out, sees net, back in trees, over and over til it suddenly laid over, and I scooped her up! Epic fish, epic battle, and epic entry in to the 40 inch Club! Please welcome John with this 42 inch net bending 25 pound pig!
#bigsnook#naplesflorida#naplesinshorefishing#naplescharterfishing#snookfishing#10000islandsfishing#marcoisland#marcofishingcharter#naplesguide#naplesfishingguide#naplesfishingcharter#rookerybay#livebait#southerngentlemenfishing#spiderwireultracast
Tags:
marcoguide
,
marcoinshorefishing
,
marcoisland
,
marcoislandcharterfishing
,
marcoislandfishing
,
naplescaptain
,
naplescharterfishing
,
naplesfishing
,
naplesfishingguide
,
naplesinshorefishing
,
snook
,
snookfishing