Scallop Fishing Charters
Southern Gentlemen Charters is excited to offer you the opportunity to experience one of the great pleasures of Florida's "Big Bend" waters. We will spend the month of July introducing folks to the legendary and beautiful waters of Crystal River. You will spend the day drifting across unspoiled crystal- clear grass flats as well as eating, relaxing, and snorkeling for one of Florida's great delicacies – Bay Scallops.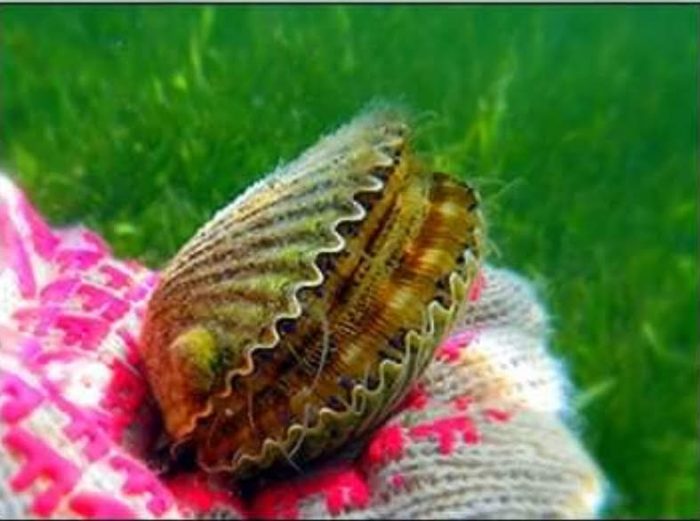 Captain Tim, a North Florida native, has been bringing his family and friends on these waters every summer dating back to and prior to his college days at the University of Florida in the 1980's. As his children grew older, they begged Captain Tim to bring them and their growing list of friends to Crystal River every summer. The whole family can enjoy an old Florida experience of time on the water and a lazy summertime Easter Egg Hunt. This is truly a special time for everyone to get out on and in the water, bring the kids, listen to music and soak up the Big Bend coastline Southern Gentlemen style!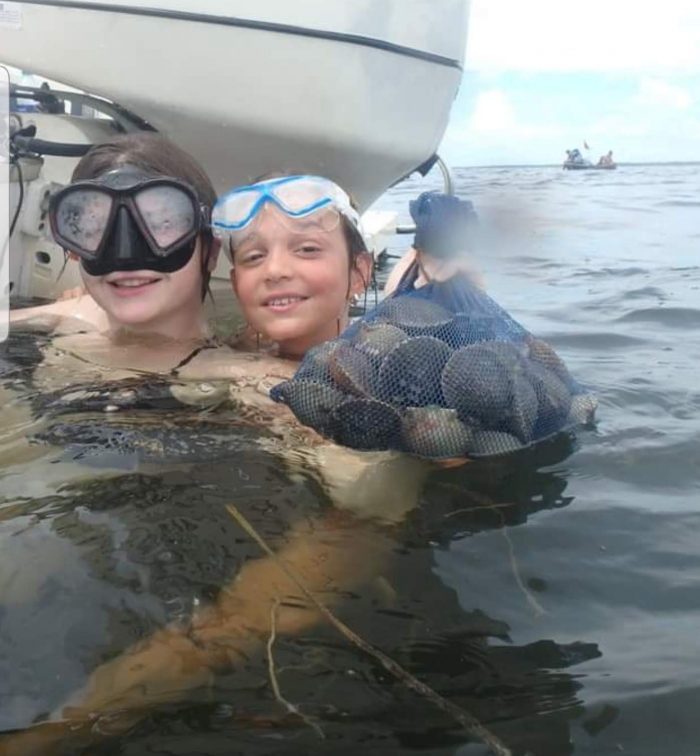 Bay Scallops are these tasty little creatures that hide down in the swaying turtle grasses, camouflaged to match the bottom, and seem like a challenge for the untrained eye to spot. What's encouraging, though, is that it only takes finding one scallop for the novice to become a master scallop spotter. Once you find one, it is always neat to admire their beautiful neon blue ring of eyes as they try to propel themselves to safety by squeezing shut, using the water to squirt themselves along. Before the Scallop can escape, you simply grab the Scallop and drop into the mesh bag that I provide and continue to lazily make your way along on the hunt.
While you, your friends and family enjoy the wonders of the shallow gulf waters, Captain Tim keeps an eye on everyone, manages your catch, helps out with any equipment issues, advice, getting in and out of the boat, and of course dolling out icy Yeti-cold drinks from his big Yeti cooler.
To start the trip, we will provide all the ice-cold water and ice for the day. From there, we are happy to set up food and non-alcoholic drinks if you touch base with us by 4pm the day before the trip. At the end of the trip, you get to bring home your catch for whichever tantalizing recipes you can concoct. Captain Tim can arrange either for your Scallops to be cleaned by a local expert at the prevailing rates or he can give you instructions so that you can clean them at home at your leisure.
Come out and let Captain Tim introduce you to an old school, old-world Florida summer pastime that will leave you and your family feeling like Florida Natives.
Book Online Now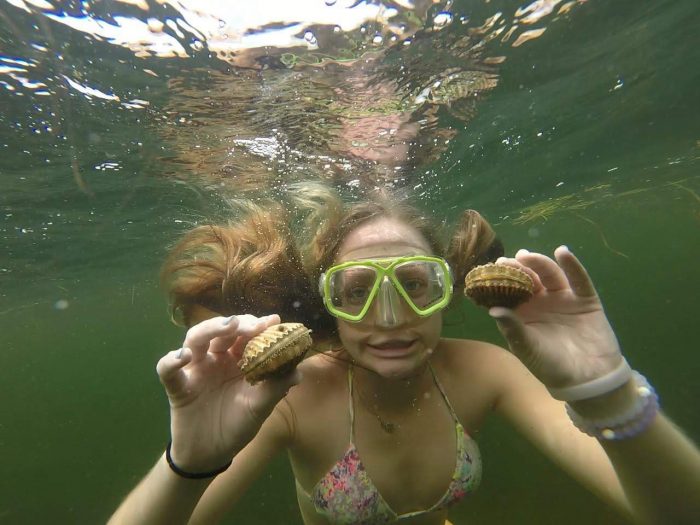 What you will need:
A mask snorkel and fins that fit you. I have an assortment of spares should you experience any issues while on the water
Beverages and food. I'll have Ice. Ask me about setting up a food order. Getting in and out of the water and the hot sun, can and will make you thirsty and hungry
Hand-applied sunscreen that will hold up to being in and out of the water. The spray sunscreens can affect the boat's finishes, so hand-applied sunscreens are much appreciated
Smiles and excitement to spend the day on one of the most pristine shallow-water environments our great state has to offer
What we will supply:
A beautiful Maverick Master Angler with a 4 stroke Yamaha outboard motor, cushioned deck and gunnels covered in SeaDek for you comfort. We also have a nice sun umbrella that is deployed during the trip to keep everyone shaded and comfortable when out of the water
Plenty of music on the state of the art JL Audio 1500-watt sound system that can play any musical genre you want to hear in the highest-quality possible at any volume you like – just don't scare the Scallops
Plenty of ice and cooler space to keep drinks and food Yeti-cold during the trip
All the licenses, mesh bags, and gloves for you to catch and keep your catch
The trip prices are as follows:
½ Day – 8am – 12pm $450 for 3 people. We can add 2 additional for $50 each.
¾ Day – 8am – 2pm $600 for 3 people. We can add 2 additional for $50 each.